A NICE SURPRISE
A Tale of Two Coreys premiered on LifetimeTV on 6 January 2018, and I have to say I enjoyed it. I didn't think it was going to be much, especially with the flops such as Aliah and Whitney.
WHERE IT BEGAN AND WHERE IT ENDED
The two Coreys were set to play in a movie called The Lost Boys, and either the director or producer that the two Coreys should meet each other. Corey Haim (Justin Ellings) phones Corey Feldman (Elijah Marcano) and that's how the two met and became friends.
Haim moved to Southern California from Canada with his mother,  father, and sister. Haim seemed to come from a good family, whereas Feldman came from a broken home. Feldman lived with is drug addict mother (played by Ashley Scott, and very good, I might add) while his father was trying to be a musician.  To give you an idea of how good Scott was, I didn't recognize her straightaway. I had to look her up to ensure who she was. I say this because it gives me a whole new respect for people when they are unrecognized able and the acting is more than what I'm used to. But I digress.
The movie follows Haim and Feldman through their teen years as teen idols while they battled demons such as sexual abuse by directors and producers, drugs and alcohol abuse.  Feldman was the first to get clean. After a few attempts, Haim would finally get clean, but in 2010 he would die at the age of 38.
LIFE AFTER HAIM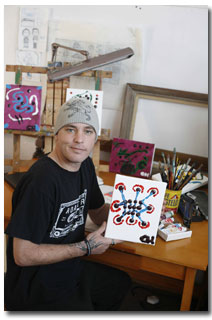 I believe Haim's death crushed Feldman like nobody's business. Haim was Feldman's world and vise-versa. Before his death, Haim was getting back into his painting, which some can be seen at Fine Art America. He also was hoping to get back into acting, but it didn't happen. Not because of his death, but because no one wanted to book him. The same was said of Feldman with regards to acting.
Feldman would go on to be apart of The Surreal Life, where he met his soon-to-be wife. He was married on the show by MC Hammer.  Feldman would also star in his own reality show called The Two Coreys in which he was hoping it help Haim, professionally and personally. But not even that could help him.
Feldman would later divorce his second wife in 2014 after five years of separation. He is currently married to his third wife Courtney Ann Mitchell 
Feldman also has Corey's Angels. Here's a clip from Celebrity Wife Swap with him introducing his Angels Corey's Angels on Celebrity Wife Swap
AS FOR THE MOVIE ITSELF
As I mentioned, I enjoyed. I find the acting by all involved made the movie that much more enjoyable. It was campy or cheesy. It tried to tell what allegedly happened to the two Coreys without making it seem less than what's being alleged or more than what's being alleged.
Nothing was really resolved in the movie, but I don't think that was the point. The point was Feldman and Haim to get their story out, even if it's by way of Feldman since Haim is now deceased.
Points of the alleged sexual abuse were made as well as the drug and alcohol abuse. The struggles of trying to be an adult actor were also brought to light. Both Corey's struggled once they reached adulthood and both handled it differently. But in the end they loved each other, and that very evident in the film.
If you get a chance to watch the film, I recommend you do so. I don't think you will be disappointed, especially for those of us who grew up with the two Coreys.
The Two Corey's can be seen on LifetimeTV. Check your local listings.
Tribute video done by RiosMyAngel.
Song: Gold by Stevie Wonder
This video really shows the friendship these two had. Haim will be forever missed.